Brigid Burke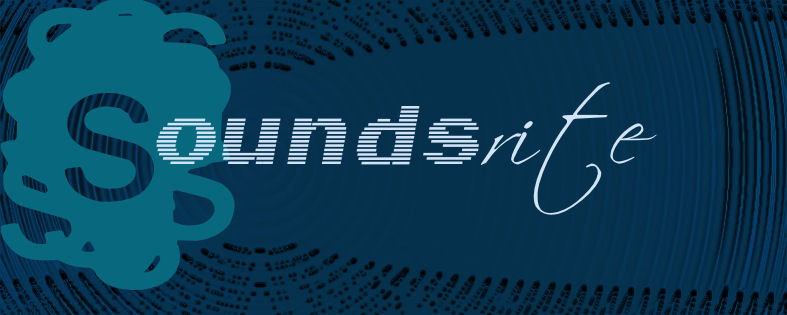 soundsRite home about email: editorial group
Work by Brigid Burke:
Notes by the artist (edited):
Instinct and Episodes 2015 (Video, bass clarinet & electronic sound. c. 12') PLAY the piece.
Instinct and Episodes is based around two buildings situated on either sides of the world: Federation Square Melbourne, Deakin Edge (formerly BMW Edge) and ORCO, in Prague Czechoslovakia. The buildings are cities placed side by side as the opening visual for an audio-visual artwork as if in conversation with text floating throughout. The creative process evolves from reflection upon these buildings. Instinct and Episodes is an improvised quartet for audio-visual performance for clarinet and real-time audio mulching with live video feed and pre-recorded video. The conversation of the clarinet is the focal point that accentuates this shining and resplendent work reflecting both buildings. Microphones and a laptop are used to control the granular synthesis of acoustic sound material sampled from the live acoustic bass clarient during the performance. Instinct and Episodes is based around clarinet air sounds and interwoven rhythms, imitating races against time and reaching a space of resolution within the light reflections of both buildings. It uses air sounds and plucked and rhythmic forces from computer-generated samples to create live energetic and pulse driven sound. The visuals lead to snapshots of degenerated line drawings of buildings, representing frenetic disturbances. The opening is somewhat disjointed as text and darkness dominate. The sounds of subtle drones and plucked clicking sounds from the bass clarinet periodically join with the multiphonics and flourishes of notes which dominate throughout. Subsequent acoustic and visual motifs capture and emerge sonically/visually creating rhythmic layers of the buildings' reflections. As the layers accumulate they rise up, overpowering their acoustic and visual origins.The imagery is based on the performer's interactions with these components; and on glass art work inspired by the two buildings. The glass work depicts the buildings inside and out using glass reflections produced at different times of the day. The imagery generates more movement with real-time pulse through effects such as strobes, and kaleidoscopes. The exploration of tempo both audibly and visually creates an abstract and floating image together with the impression of movement.
Silence the Green 2016 (Video and sound by Brigid Burke; dance and choreography by Sela Kiek. c.9') PLAY the piece.
This work is a collaboration resulting in an integrated sound and video work that fuses dance, layered digital images, glass plates, film footage and digital sound. The dancer (Sela Kiek) merges with glass fused images of the lying figure. These multi-layered projections ripple and blur as the dancer moves in and out through the space. The acousmatic sound reflects the dance, by means of multi-layered drones and partials of both low and high sounds. Silence the Green is a live dance, sound and video work created in 2016 as audio visual dance work.
About the author of the pieces:
Brigid Burke is an Australian composer, performance artist, clarinet soloist, visual artist, video artist and educator whose creative practice explores the use of acoustic sound and technology to enable media performances and installations that are rich in aural and visual nuances. Her work is widely presented in concerts, festivals, and radio broadcasts throughout Australia, Asia, Europe and the USA. Brigid's main focus is integrating musical ideas with a combination of different media. Each media component is a tool in the exploration of her artistic process: sound (acoustic, laptop, clarinets and electronics), composition, improvisation, installation, collaboration (with dancers, acoustic performers and other new media performers), printmaking, pen and ink drawings, painting and digital animation. Her involvement in New Music has led her to integrate sound, visuals, video mixing and theatre in her performances of her own work and in collaboration with other composers/performers. Ensembles Brigid performs with are Tri Duo, Nunique Quartet, Pausa with Adrian Sherriff, BHZ with Mark Zanter and Steve Hall based in the USA, and Duo with David McNicol, piano. Recently Brigid has been a recipient of an Australia Council Project Music Fellowship & of new commissions for the works Coral Bells & Instincts and Episodes. She has been Artist in Residence at Marshall University USA (as an Edwards Distinguished Professor Artist), and at Indiana University USA and ADM Nanyang Technological University Singapore. Most recently she has presented her works on the big screen at Federation Square Melbourne, at the Tilde Festival, on ABC Classic FM, and at the International Media Festival at the Trafacka Arena in Prague. She has also presented work at the Echofluxx 14 &15 Festivals Prague (http://echofluxx.org/); the Generative Arts Festivals in Rome, Milan & Florence Italy; the Asian Music Festivals in Tokyo; the Melbourne International Arts Festival; the Futura Music Festival Paris France; the Mona Foma Festival Hobart; the International Clarinet Festivals in Japan and Canada; and also at the Seoul and Australian International Computer Music Festivals. She has a PhD in Composition from the University of Tasmania and a Masters of Music in Composition from The University of Melbourne.

See www.brigid.com.au for further viewing, listening, and information.

These works are licensed under a Creative Commons Attribution-No Derivative Works 3.0 Unported License.

There are big audio and av files on soundsRite. Please have patience while they load sufficiently to stream. The soundsRite website is designed for SAFARI.