Soundsrite soundsRite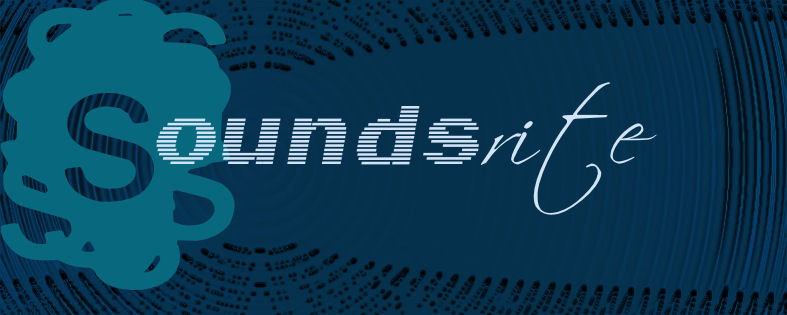 soundsRite home about email: editorial group
Aims and Scope of the journal

soundsRite, established in 2009, at the University of Western Sydney, Australia, publishes selected new media work which includes words or sound or both. The journal is online and open access, and contains creative work only. It features sound works created for digital embodiment, including generative, interactive and multi-channel pieces. Similarly, it showcases writing which is kinetic, generative or interactive. Work published on the site will be released in streaming forms and if appropriate in uncompressed downloadable forms. All works on the site contain sound or text, but we are particularly concerned with featuring pieces which combine text, sound and image. The soundsRite site also archives an earlier journal, infLect, founded and edited by Hazel Smith at the University of Canberra (2003-2007). The focus of infLect was new media writing.

Editors
The founders and editors are Hazel Smith and Roger Dean of the University of Western Sydney. Hazel Smith is a research professor in the Writing and Society Research Group at the University, and also a founding member of the intermedia group austraLYSIS. Roger Dean is a research professor at MARCS Auditory Laboratories, at the University, and founder and director of austraLYSIS.
Editorial Advisory Group
A number of international experts on writing and sound composition for digital media provide advice to the editors, and they accept an initial three-year term.

Selection procedure
Submission is normally invited, however preliminary proposals are welcome and periodic calls for thematic issues will also be made.

Peer Review
The journal has a single-blind peer review process. The editors decide whether a work should go for review outside the Editorial Group, and after review their decision is final.

Conditions of Submission
We require published authors who have their own websites— or who have access to institutional websites — to ensure that a link is placed on those sites to the soundsRite URL for their work. The soundsRite site is open access, and no special efforts are made to restrict the capacities of users to save material from the site. Authors may choose to label their works as subject to either a Creative Commons licence, or as 'All rights reserved'. While material for sale is not housed on the soundsRite site, authors can ask for a link to be created from their work to an ecommerce site which offers their work. There will be a specific disclaimer on our site indicating that the ecommerce site is outside our domain and control.

Frequency
One volume of soundsRite will appear per year. New works are posted, when they become ready, by adding them to the current issue. When a new volume appears the previous volume is archived (and maintained as accessible) by the journal. We encourage ongoing archiving by organisations such as the National Library of Australia and the Internet Archive USA.
Disclaimer
Material on the soundsRite site is not for sale, but is released either with no licence conditions or, as specified, with Creative Commons 'Attribution-No Derivative Works 3.0 Unported License' or 'all rights reserved' conditions. Work by most of the artists shown in soundsRite is available commercially, and some pieces have e-commerce links. These are outside the control of soundsRite or the University of Western Sydney, and we disclaim all connection with them.

This work is licensed under a Creative Commons Attribution-No Derivative Works 3.0 Unported License.
Technical Issues
The soundsRite site is based on Quicktime technology (you need Quicktime 7.0 or above to decode H264 compression). We recommend the Safari browser since soundsRite is hosted on a Macintosh server. Firefox may not achieve automatic proxy host switching, which you will very probably require. Quicktime Streaming Server facilities are available. Other formats can be accommodated, and free-standing software items are welcome. We are keen to emphasise multi-channel audio, as in the case of our soundsRite audiologo (4 channel audio available if you use a multichannel speaker system with your computer), and Daniel Blinkhorn's work in Volume 1 (5.1 surround).