Soundsrite soundsRite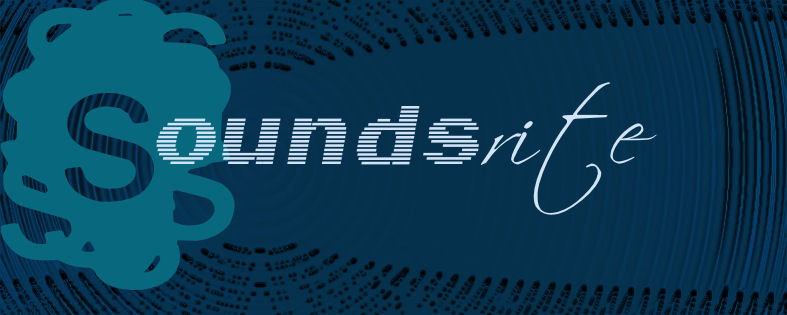 soundsRite home about email: editorial group
A work by John Drever and Lawrence Upton

This work is licensed under a Creative Commons Attribution-No Derivative Works 3.0 Unported License.
There are big audio and av files on soundsRite. Please have patience while they load sufficiently to stream. The soundsRite website is built for SAFARI; please use it if at all possible.
Namely for Peter Manson (2009), by John Drever and Lawrence Upton (video verson 2010; 21 minutes).
John Levack Drever and Lawrence Upton tend, as here, to use sets of "visual poems" as what they call 'indicative scores'. Upton makes the scores in a poetic tradition. In 'NAMELY for Peter Manson', the source materials are the letters of Peter Manson's name. These are treated, in this case, by being stretched and overlaid using computer packages. Each is "sound sung", a process analogous to but not the same as "extended voice technique". The score as such includes information on the order in which each image is performed and the duration of that performance. Usually, they have presented the images both to themselves and the audience by means of an electronic slide show. Before the performance, studio recordings are made by Upton with which Drever composes pre-recorded elements. During the performance, these pre-composed elements are played back and mixed in real time with Upton's live voice; and further treated.This results in a complexity of feedback loops with both artists composing in real time.
Here they present a video version of a performance. Sonic extracts from thie piece have been published previously, but this is the first published full audiovisual realisation.
Lawrence Upton
is a sound & graphic artist; performer, poet and curator. He works collaboratively and solo. He made text-sound composition at Fylkingen in Stockholm from 1974 until 1978. Later, he worked with cris cheek, Erik Vonna-Michell and others. During the 1990s, he renewed and expanded collaborative working with Bob Cobbing (1920 – 2002), producing 12 publications, one of which is the 300 part Domestic Ambient Noise (2000, Writers Forum) whilst continuing his solo practice. Since 2004, he has been making multi-media pieces, especially with John Levack Drever, a collaboration he regards as being of major significance in his artistic career; and extending his solo practice in a number of directions. He made the sound-track to William English's film Still and a large film project with Wilton Azevedo is underway. Upton also works with Benedict Taylor (viola) and Tina Krekels (saxophone) . He was AHRC Research Fellow at Goldsmiths, University of London (2008 - 2011) and is now a Visiting Research Fellow there.

John Levack Drever
is a sonic artist and soundscape researcher focusing on background noise and human utterance. Commissions range from the Groupe de Recherches Musicales (1999) to Royal Society for the Protection of Birds (2002). He was the final chair of Sonic Arts Network and a co-founder and chair of the UK and Ireland Soundscape Community, a regional branch of the World Forum for Acoustic Ecology. His PhD from Dartington College of Arts, awarded in 2001, was titled, 'Phonographies: Practical and Theoretical Explorations into Composing with Disembodied Sound'. Vitally, much of his output is collaborative including projects with Rachel Gomme, Alice Oswald, Alaric Sumner, Tony Thatcher, Tony Whitehead, Louise K. Wilson, Suiji Okada, Mark Kelly and Lawrence Upton. He is a member of Blind Ditch. Drever is a Senior Lecturer in Composition and head of the Unit for Sound Practice Research at Goldsmiths, University of London.
Go to the piece.
soundsRite home about email: editorial group